Feature:
1. The practical work table raised the auxiliary work efficiency effectively.
2. New exempts the maintenance motor with moisture-proof, the dustproof protection.
3. Electron steering provides the precise control.
4. The self-braking causes the operation to be safer.
5. Special design's the space lets driver's work be more relaxed comfortably.
6. Seater electric tow,Convenience operation.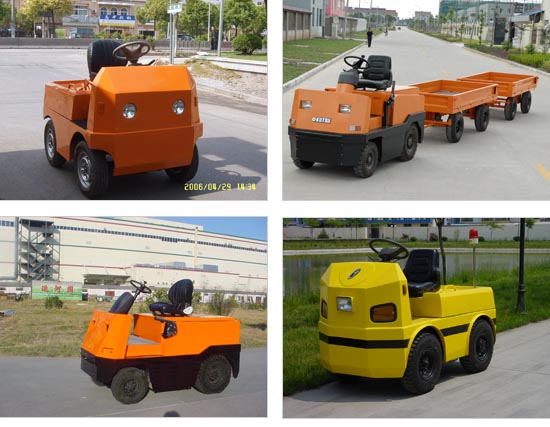 Specifications:
Model
BL-Q02
BL-Q05
BL-Q08
BL-Q10
BL-Q10B
Type
4-Wheel, Back Drive, Hydraulic Brake System, MOFSET, Hand Brake
Rated Tow Power
N
800N
1100N
1100N
2500N
2500N
Towed Mass
KG
2000
5000
8000
10000
10000
Drive Speed
(Full-Loaded) KM/H
11
10
8
8
8
Turning Radius
MM
2200
2200
2200
2200
2200
Gradeability
(Full-Loaded) (%×m)
10%×12m
10%×12m
10%×12m
10%×12m
10%×12m
Load Distribute
Frond Wheel KG
420
492
492
630
630
Rear Wheel KG
520
608
608
1180
1180
Service Weight KG
940
1100
1100
1810
1810
Load Rate Front: Back
0.45:0.55
0.45:0.55
0.45:0.55
0.35:0.65
0.35:0.65
Model
XQ-3-1
XQ-4.5
XQ-4.5
XQ-6.3
XQ-6.3
Rated Power
KW
3
4.5
4.5
6.3
6.3
Rated Voltage
V
45
45
45
45
45
Rated Current
A
87
120
120
173
173
Rated rotate speed
EPM
1780
1600
1600
1200
1200
Excitation system
Series Excitation motor
Overall Length
MM
1700
1700
1700
2095
2095
Overall Width
MM
1130
1130
1130
1080
1080
Overall Height
MM
1300
1300
1300
1390
1390
Wheel base
MM
1030
1030
1030
1150
1150
Tread
Front Wheel
980
980
980
920
920
Rear Wheel
1000
1000
1000
890
890
Ground Clearance
110
110
110
142
142
Tow Rod Height
MM
320
320
320
365
365
Tire
Front Wheel
145/70-R12/×2
145/70-R12×2
145/70-R12×2
6.50-10/×2
6.50-10/×2
Rear Wheel
145/70-R12/×2
145/70-R12×2
145/70-R12×2
6.50-10/×2
6.50-10/×2